A beautiful wedding for a beautiful couple! Fall is such a beautiful time to get married. The weather, the leaves… the holiday spirit creeping in, and these two threw one beautiful event! We did get SOME rain, but we PLAYED in it and OMG the photos turned out phenomenal. Thanks for trusting me, you two!
It was important to Kari + Matt to be surrounded by their friends and family and having the best of those moments captured!
Kari has such a close knit group of friends and family!
This staircase at Springfield is SO cool. I love shooting the bride walking down it, up it, standing on it… It's pretty great.
These DEEEEEEP colors are a big YESSSSSS!
My goodness they are stunning people!!!!
Rainy days won't stop me from capturing the very best! We can get creative, have fun, and roll with it. It's part of your story.
Aren't they a gorgeous couple?! They could be professional supermodels!
Even though the ceremony was inside, it was still so incredibly intimate and personalized since their officiant, Joyce, let Kari help write it. Kari + Matt both agree that they wouldn't change a thing!
Another wedding after my own heart… donuts!
I love couples who love to dance and that was Kari + Matt's favorite part! It was everything they ever wanted and they wanted to have as many people out on the dance floor for as long as possible. They definitely accomplished that!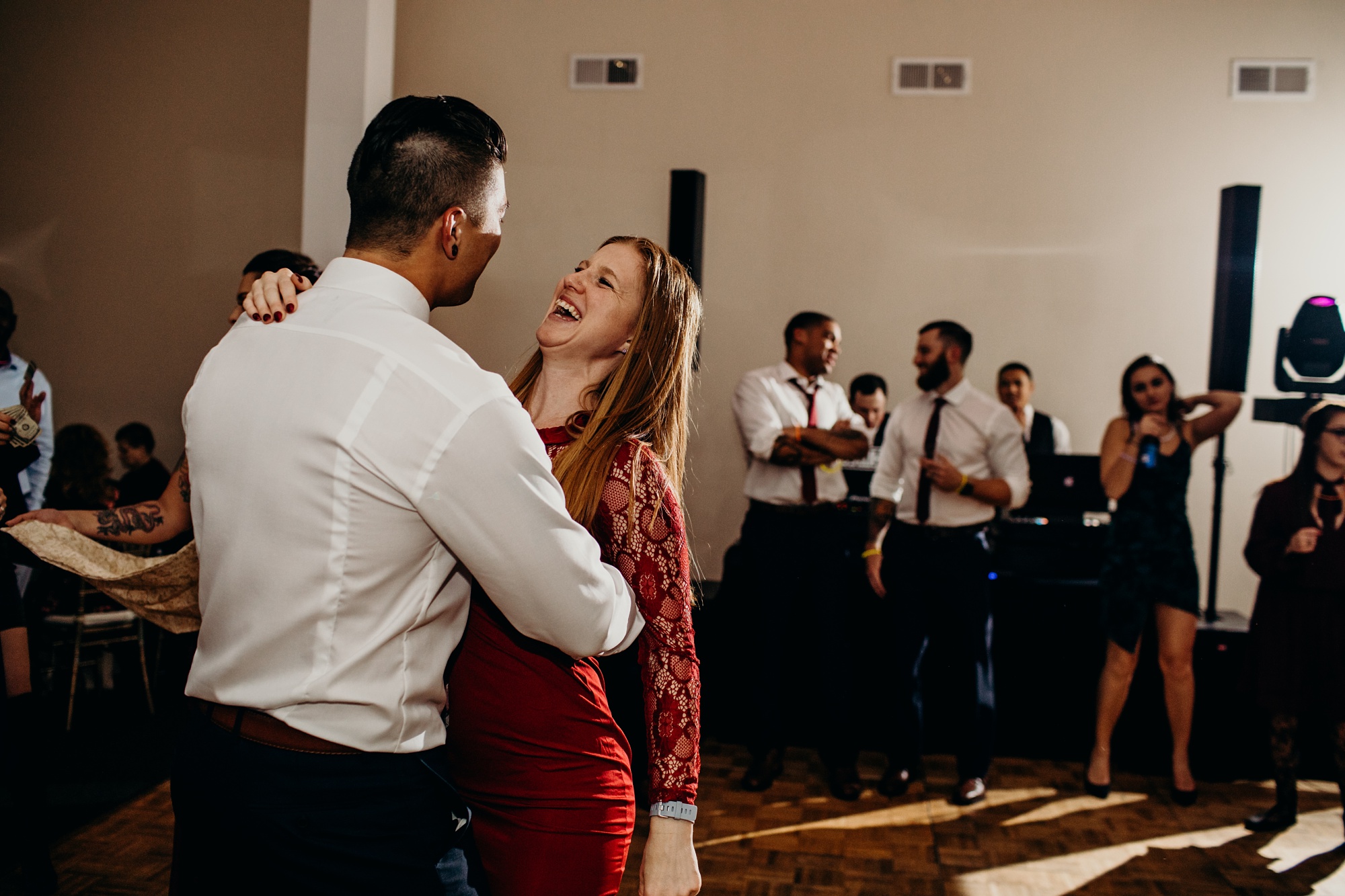 Traveling to Belize for their honeymoon (jealous!), Kari + Matt had the best trip imaginable! They told me how much fun they had exploring rain forests and waterfalls, visiting Mayan ruins, making chocolate (YUM!), and relaxing and enjoying a lot of tropical food and drinks (DOUBLE YUM!).
Kari + Matt's advice to couples who are planning their big day is simple but still so important: try and enjoy it through all the stress. They planned their wedding in exactly one year and it was a whirlwind but one they most certainly will never forget!
Not to mention, you have friends and a bridal party for a reason! Don't be afraid to ask for help. They wouldn't have said yes to standing beside you on your big day if they weren't up for helping make it perfect! Kari said she was lucky that she had Matt and that he constantly said to her "Plan whatever you want to make this your perfect day. It's already going to be perfect for me because I get to marry you." Ugh, that just makes my heart melt!
Kari was so happy with how they still managed to get amazing pictures and video despite the rain. I'll jump in puddles with couples all day long! Seriously, this pic below is one of my favorite bridal party photos EVERRRRR.
Happy day, Kari + Matt! Wishing you all the love in the world!
Venue: Springfield Manor + Distillery | Attire: Bridals by Elena and Men's Wearhouse | Catering: Carriage House Inn Catering | Florals: Blossom and Basket Boutique | Hair and Make Up: Ashlie Shade & Kylie Vaccaro from Split Ends Salon | DJ: Justin White, J White Productions | Cake: Bakery Express | Officiant: Joyce Hilberry | Video: A Golden Fox
Ready to capture the wedding of your dreams??? I am booking 2020 and 2021 weddings near Cumberland, Frederick, Deep Creek Lake, and Washington DC. I specialize in emotion-filled, laid-back wedding photography that captures the real you and your REAL LOVE. Email me for availability.